Browsing articles by " admin"
I find it's always good to have a list. Not a heavy duty 'must do' list, rather a possibilities 'menu'. With that in mind, this is my first blog of 2021. Armed with a phone and a bit of audio editing software, I invite you to join me for part of my walk today.
I like finding linking thoughts that take me forward. On my walk a Christmas window display made of Lego got me thinking and inspired me to look into the story of how Lego was developed. A story of ups and downs and a good inspire for the beginning of a New Year, especially one where we are all facing the uncertainty and danger caused by a virulent virus.
The Lego story is online in various guises, but Youtube provides a lovely animated version, if you have 20 mins.
For now, I leave you with this little Podcast and the image that inspired it.
Eating my breakfast this morning I glanced at two candle holders, which sit on my kitchen table. They look like heatsinks. Bits of metal popped into electronic equipment to help keep them cool. Well, my brain bounced around their story and so I decided to share with you.
Back in the 90s and early 2000s I worked for a technical PR agency. We had clients all over the world making all sorts of things from SIM cards to motors and drives, electronic meters to mobile phones and even one that was exploring networking through SMS texting. A new fangled idea at the time, but that's another story.
So, a Swiss client needed a catalogue to promote a line of heatsink components that their French office was going to source. The catalogue needed to be in three languages: English, French and German. The task fell to me and onward I went to bring the paper document into being.
The candlesticks were given to me at this time as a Christmas present from my sister and brother in law. They'd seen them in Habitat and thought of my project.
I had no idea how long the project would take when I started. But it turned into a mammoth task, for me at least. By the end of it I learned that an elephant has a 22 month pregnancy. And that's how long the process took.
A trip to Switzerland to start the project. My first proper business trip. I was to meet the French electronic components engineer at Basel Airport and we were to drive to the meeting together. Only thing is my flight was cancelled due to snow at Basel. So, at Heathrow at 5am I had to run to a gate and get on flight to Zurich instead. Oh and tried to find a payphone to get a message, before office hours to say that I would not be at Basel, so not to wait for me. Thanks Mum 🙂  
I like having things around me that are triggers to memories, so the candlesticks did just that this morning. I still have a copy of the catalogue. It did take me 22 months after all. And remembering this morning I am encouraged by the past, the ups and downs and the power of perseverance and the people who I worked with along the way.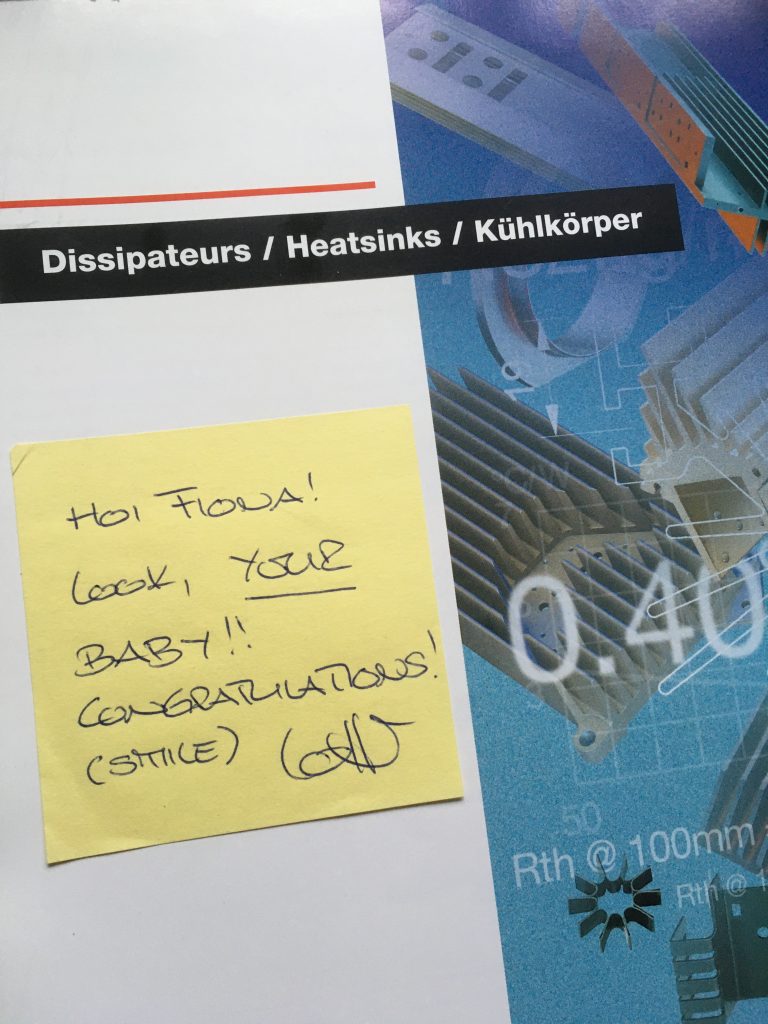 Reference points are the connections that we use to make sense of things. To contextualise. 3D models take us from 2D images or vice versa. Being able to link reference points is working with individual ingredients to get a greater whole. So today's musing is sparked by yesterday's blog entry H2O ending: 3 parts making a greater whole.
During the course of yesterday I had links to three Daniels. All sharing a first name in common, while each a unique individual.
I don't know if I'm playing some kind of reference point Bingo, but last night when I sat down to watch Quantum of Solace, I smiled as I realised that the actor playing Bond, was the third Daniel of the day; the first I'd spoken to on the phone and the second I'd bumped into while taking a walk.
We are all trying to contextualise, well at least I think we are. Or maybe it's just me. Grouping ideas and thoughts in my brain, which I can link, has a sense of order and purpose and an anchor point for the use of information later.
Some years back my sister and I did a cookery night school. Mediterranean Cookery: from pasta to paella. Alliteration there. The connection of two letters by repetition. Bingo.
My big take away from the course tutor was that, although he gave us all the same recipes, he assured us that each of our dishes would no doubt taste different, if compared one to another.
And so is the joy of life and creativity. We all have ingredients, reference points to work with, and we all end up with different outcomes.
I like it best when reference points spark, but sometimes these connections form gradually or are realised when thinking or doing something else. I've found toilet breaks can be such times. Inspiration from the throne, so to speak.
I've not thought of a picture to put with this yet, but hey I think it's just sparked. No throne break required. I'm going to dig out a business card, which I created for one of my sister's old school friends. He liked to give gifts of chocolates to ladies. I was never the recipient of such a gift, but the maker of a calling card he would leave with his gifts. He was inspired by the 'Man from Milktray' adverts, which featured a Bond like character delivering chocolates by feats of daring. And, that is where my perhaps tenuous pictorial link comes from, espionage and intrigue. Which is also part of the title for today's musing, a pun which nods to movies and the iconic black and white classic, The Third Man. I'll leave you with the link to the theme tune below.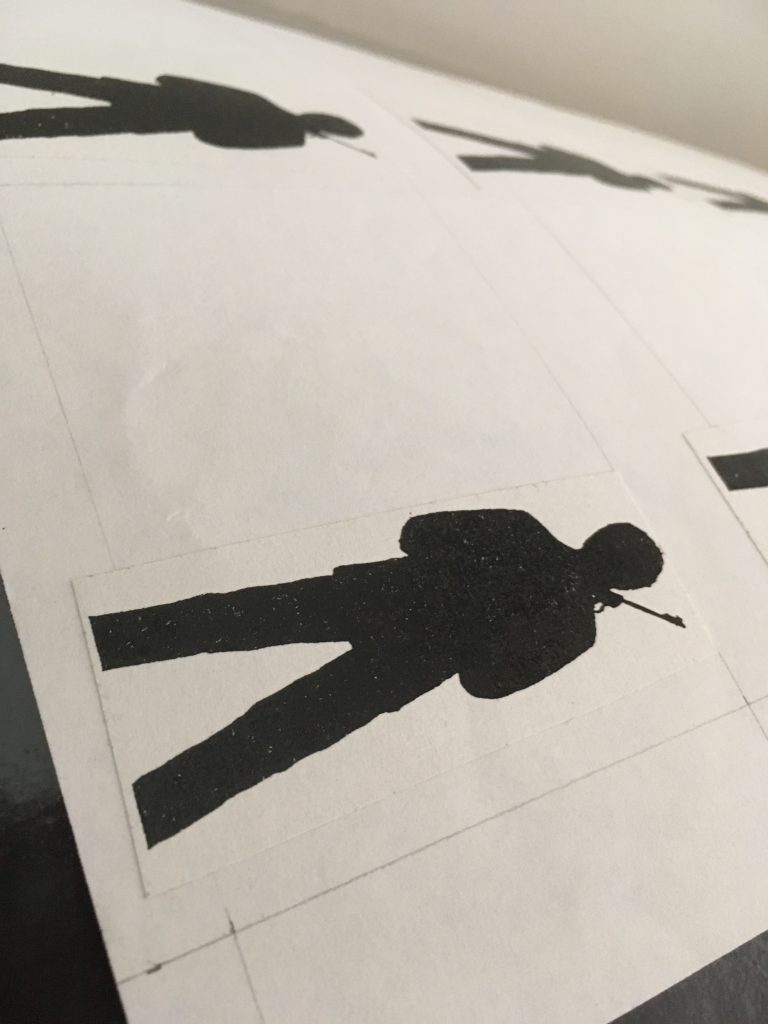 I was musing on what to write about for my second post and then I thought that I'd take a step out from the first post. A link. A thread.
My first post was about reconnecting. Reconnecting with the world via online media and reuniting a skateboard with its childhood owner. While chatting with the guy when he collected the skateboard, we were joining dots and sharing our respective memories. I was saying that it's a small world and he agreed, saying that he'd met British people while on a trip to Australia, only to discover that they lived just a few miles away from each other in the UK.
So this is today's launch pad. Another connection. Reminiscing has taken me back to the street where I lived growing up. The place that had connected the skateboarder, the skateboard and me. It got me thinking about a time when there were amazing surprising 'small world' connections.
People used to pop in to our home. They might have a cuppa or a coffee, or if we were eating they'd join in too. There was an elderly Thai lady who'd been a cleaner at my Dad's school and she'd even pop in for breakfast. One afternoon two neighbours had popped in and one of my mum's brothers-in-law was visiting.
I think the kettle was put on and a cup of tea shared. Each guest had a distinct accent, giving a reference point, a clue to places they'd lived: Irish, Scottish and South African. And perhaps it was this connection that got the conversation going.
Within a few moments, they all were sharing about South Africa. They had all lived there at different times in their lives. None of them was born there, but South Africa had deep roots in their lives.
It then emerged that two of them had even lived in the same remote South African town, but at different times. And, when sharing their respective memories an amazing connection surfaced. They had both lived in the same house, but years apart. And to drill back further, that house had been built by one of their grandfathers. Amazing. A wow moment.
I love the wonder behind the threads in each of our lives: the common ground.
A few years back my sister and her family were travelling and remembering this moment shared in our front room, got the details of the house in South Africa. Yes, they visited and told the story to the new owners and were permitted to walk around the grounds.
Amazing.
I've been trying to thing of a suitable image for today's post. Sometimes a connection can be nearer than you think. I've just looked up from my desk and to the side of me is an unfinished picture that I painted at school. It's got the world in it, so that will be my connection to the post. The painting is called 'En sortant de l'école', inspired by a poem by Jacques Prevert, a poet, who now I think about it, made the most amazing connections, as poets do. In his poem Chant Song he puns between French and English. Now there's an amazing connection. Merci. Sea Mer. And indeed water is the link every living thing has in common. None of us can live without the connected elements of H2O, so definitely something to say 'merci' for.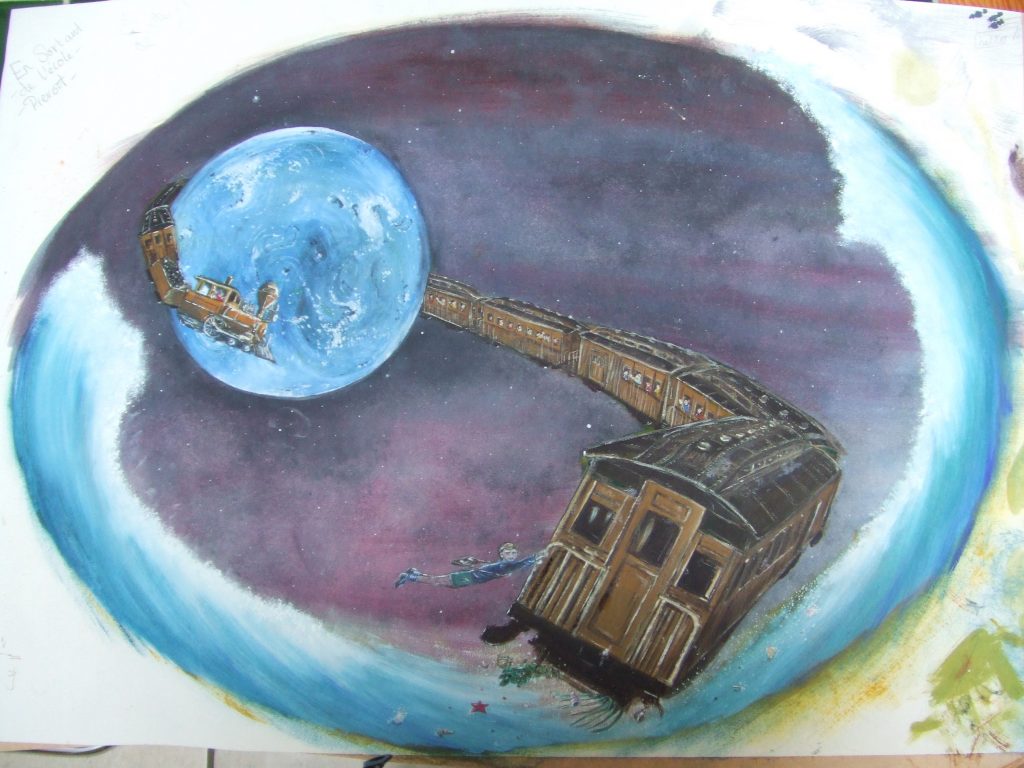 The reuniting of a skateboard with its owner is the kick off point for the revival of my blog.
I'm all about connections and story, so it seems a good place to start. For many in Lockdown Britain, today is back to school. A new season as we move into autumn and start fresh things, while drawing on what has gone before. So here goes.
A cycle ride a couple of days ago led to me bumping into an artist, who I hadn't seen for months. He was another step in this kickstart as he said "you've things to communicate and the tools to do it". Well, I've shied away from a personal media presence, even though I have a Masters in writing for the media, have worked in press relations and produced and hosted a community radio show. But media 'schmedia', so many channels for communicating and I've been sacred of being engulfed by a tidal wave of dross or adding to the sea of 'yada yada'. But, Lockdown has left me with things to say and an ever growing library of my life untold, so I'm putting my toe in the water and embracing the possibility to share online, even though I'd far prefer to be sitting over a coffee or glass of wine chatting.
So back to the skateboard. I'd bought it in the late 80s when a neighbour was moving. I'd given my skateboard to charity and regretted it, so bought this one as I still had unfulfilled dreams of skateboarding. Something I'd first seen down a skate track along the Westcliff in Bournemouth, where the BIC now stands. I never became the cool skateboarder of my dreams and today with health and safety, I'm sure the skate track that inspired me in the 70s, would be banned.
Well, I thought that it was time that I either sell the board or make it into a shelf, but neither of these seemed right. Then on Monday, I took a better look at it, assessing whether it needed some Danish Oil to revive the wood. But when I looked more closely at the scribbles on it, under the dirt, low and behold there was the lad's name and even his age and references to BMX. He must have loved this board. I now didn't have the heart to do anything with it. This was somebody's story, a page in their life: even though it had crossed my path and become part of my story, for a while.
I started wondering if I could find the guy on social media. And within a few clicks there he was. Would it be odd to message him? Hmmm? So I pinged a message and filed the board away again.
Then, last night as I was settling in to eat……Ping. It was the skateboard owner! Yay. He couldn't believe the unexpected message and 'blast from the past'. We messaged a couple of lines back and forth. Yes, he remembered the board and being neighbours and my Dad, a local teacher, who had taught both him and his mum: reference points and connections. I was delighted.
Then to arrange delivery. Though we had both moved, it turned out we were both living in a town neighbouring our childhood homes. So, 10 minutes later and after more than 30 years, the board and its owner were reunited.
And, so with this story in mind and the warm feeling that Bagpuss must have had, when reuniting objects with the people who loved them, I'm going to branch out into the blog world. The guy had said, oh pop the image on Facebook. Well, I post very little there nowadays, I prefer Insta. But, I had a go and then realised that I couldn't put any relevant tags, so abandoned the project.
Now, this morning, after a trip to the take donations to the charity shop, that joy of letting things go at the right time, along with the notion of connections and the right things being homed with the right people, I am typing at my keyboard. I'm wearing skateboarder trainers and leaning on a skateboarding cushion – reminders of my skateboarding dreams.
I love inspiration, which for me comes from connections: people, places, things. And, as I learned on my MA, which was also a back to school step in September 10 years ago, I write about themes of value and worth. And as an artist I realise, that I create from the same premise.
So, let's see where this fresh page of a blog story will take me. Onwards……………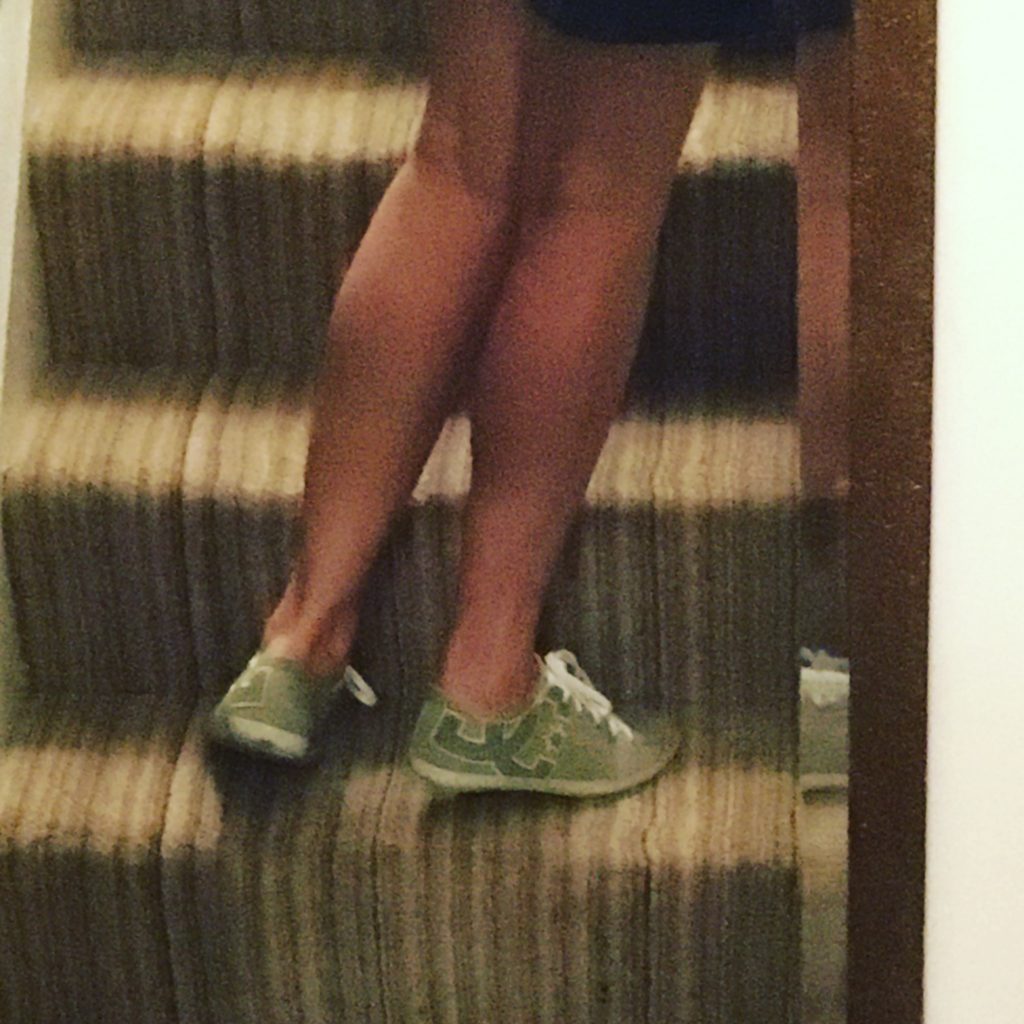 Was inspired to sketch my reflection in the French door as it changed in the light, prompted while listening to Aboreal – Dawn mix Meant I got out my art stuff and found a missing tape measure. Haven't sketched in aaaages. And this really was play. Delighted.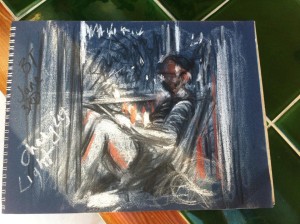 I've wanted to skate since childhood, so here goes.
I really want to be able to skate backwards, but forwards first will be a great achievement. To mark the venture I'm going to produce some short broadcasts for www.hopefm.com where I host a radio show each week.
If you want a sneak peak, then follow the Youtube link below.
I say thank you to Aronofsky for opening the flood gates to so much debate. I'm sure the story of Noah hasn't been reviewed and discussed in so much detail by so many people for years.
As to the movie, well not my cup of tea. As I watched it I could hear the words of my Masters tutor 'that's convenient' resounding in my ears at moves in the plot. Twins, yeah right. Convenient – you'll understand if you've seen the film.
I think that the script would have made a better stage play. Ditch the CGI & the overpowering soundtrack, saying 'this is dramatic'. As to the adaptation of the original story: the writers' artistic license could have been so much more imaginative. The thing I did appreciate was the exploration of Noah's angst, the idea that what he was being asked to do carried such responsibility and he didn't know how to handle it.
Here's to more discussions about big stories 🙂
A friend of mine organised a creative reflective spot in an old church. A time to explore a theme with a bunch of people. She chose wire and we explored how wires connect and lets current flow through.
The hands on side was fun as she put out some wires for us to play with, to create and model a form. I thought I'd make a star, but angles just weren't natural to the material.
Then I spotted a friend making a flower, so I thought ah… loops and twists. Now I was working with the wire and not against it. The loops flowed and then inspired I dinked the loops to make petals. Then pching 3D moulding grew as the current of inspiration flowed. Fun.
Afterwards someone discarded their wire and said I could have it. They had worked it into a red ball with a multi-coloured tail, which they clearly thought wasn't useful. But no, this became the flower bud and stem.
Then as I pottered to find the wire cutters and snip a bit of green to take home, I found someone else had dropped some twiddled green. Together the three parts became a greater whole.
My lesson : Let go of expectations. There are so many more connections and inspirations than we've yet imagined.