Sculpture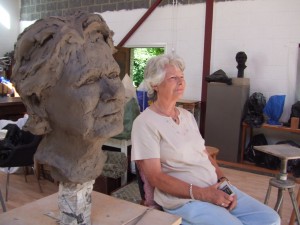 A fresh perspective
I'd always wanted to try my hand at sculpture. Running on empty I desperately needed a break; something that would just get me zoned out for a few days. A Google search pulled the jackpot. Within minutes I'd booked myself on a four-day portraiture course in Oxfordshire and a couple of phone calls later found a B&B too. Perfect.
I knew that I'd made the right decision as soon as I arrived. Outside a walled garden protected the barn-like studio building, covered in wisteria. Inside the wonderful creative space oozed natural light with high ceilings and the most amazing bronze and clay busts and figures, not to mention the Duke of Edinburgh supervising in the corner. His bust you understand.
My fellow students had come from all over the country: some London city lawyers, a songwriter (who eventually submitted and told us the hits she'd written, while we hummed along), a housewife from the West Country and me.
We started by making an armature, basically a wooden base with a pole on it that goes within the sculpture. This included a kind of paper brain, so that you can build up the clay head on the outside.
Our model Rosemary was installed on a high swivel chair, ready for us to gawp at and be rotated 45 degrees, roughly every five-minutes. We all eagerly started, chucking clay on our armatures, making the basic head shape and feeling like we were back at school.
The teacher, Rosamund, told us that a most important part of capturing the character of our model, a phrase repeated over the four days, was subtle things, like the tilt of the head. So we all stared at Rosemary knowledgeably, noting the gentle incline of her head to the left.
Nothing phased our model, even the final indignation when we each took callipers to her face to produce a chart of her vital statistics, which we then matched on our creations.
Rosamund moved among us, advising and instructing and telling us, "Don't smooth! That'll be the death of the sculpture." The impulse to smooth was, to me at least, instinctive, but I soon saw the light. The technique was to blob on bits of clay as though you were drawing a profile, only to shave them off again when you got your next 45-degree view! Once you'd accepted this, then the sculpture almost built itself.
Saturday rolled into Sunday, and Sunday to Monday and before we knew it, it was like the last minutes of an exam. We were all desperately trying to put finishing touches to eyes and lips, before the final stage, Rosemary's lobotomy!
This really seemed quite unbearable, but no pain, no gain. Rosemary's sculpted head needed to be an even thickness in order to be fired. So, like a gifted surgeon Rosamund demonstrated the removal of the paper brain and excess clay: something for us to do at home.
As I drove back that evening, with my Rosemary sitting next to me on her armature, in the foot-well of my passenger seat, I was anxious that I didn't brake suddenly and the nose I had worked so hard to craft would suddenly take on the characteristic of a boxer.
But Rosemary got home unharmed and then sat on the dining room table for several weeks. Guests were asked if they wanted to see 'Rosemary', and after the initial look of surprise accepted the invitation. Telephone callers would ask how Rosemary was getting on. "Drying out," was the answer.
Eventually I got the courage to get Rosemary fired. You see once you start on a new venture then you hear rumours, probably like those nightmare birth stories people love to tell.  In the case of my creation, the thought of her having an air bubble and exploding in the kiln was a risk that took me time to deal with. I went back for a further 2 day course, this time a figure, Helen – pictured above. So, I decided to get both creations fired together and I'm pleased to say neither exploded, though Helen did split in two and has had to be glued together. Creative joys.
Notes:
Rosamund de Tracy Kelly is an Associate of the Royal Society of British Sculptors (ARBS) and runs courses at her Oxfordshire studio.
The above article also appeared in part in The Wessex Muse Magazine.