Browsing articles in "Blog"
Today's portrait lesson. Was going to trash my drawing part way through the class as I was really unhappy with it (especially the nose!) and the tutor said that the 'history' of learning in the picture could be used to inform it, if I corrected and re-referenced the relationships in all the tools used to create a drawing – shape, negative shape, direction and proportion, anatomy, tone etc etc. A struggle, but pleased that I hung on in there and took photos of the process 🙂
Each letter of the word REST is also the first letter of 4 other words – an acrostic.
The inspiration for this was on a busy Friday afternoon, when I worked in a hectic PR office.
I was stressed out. Not just on that Friday, but I had been stressed out for a while.
At that time in my life people had been telling me to 'REST in the Lord". Which is Christianese for 'chill out and trust God'. But I didn't get it.
I had searched the Bible for the word REST and seen how in the pre-Jesus part of the Bible, Moses, who'd had more than his fair share of stress, had entered God's rest. And this didn't mean that he'd died, it was a state that he had been living in while trekking around with thousands of grumbling people in the dessert.
Then there was a whole bit in the New Testament, the Jesus part of the Bible, about not missing out on entering God's rest.
Anyway that Friday afternoon, I was busy trying to finish work for the weekend, but I needed to take a toilet break, which is very inconvenient when you are busy.
However…eureka…the little room, away from the computer and the phone, was a place of quiet revelation. (I'll add here that my visit was no longer than a brief pause, no time for reading!)
Anyway I'd got it.
REST was all about Relying on God.
Not a bit, not some of the time, but Entirely.
It should not be striving, but a complete Stop from self-reliance and constant Trying.
YAY – REST!
Then eureka part 2 came this summer, and I hasten to add I was not in the bathroom at the time!
I was reading and learned that the Hebrew word Shabbat, from which we get the word Sabbath actually means to CEASE or STOP.
In the beginning Genesis story in the Bible, it says that after creating everything God rested: he stopped working and ceased from labouring.
In the Moses story a bit later in that same Bible book, God sets up Shabbat, a rest for people….the weekend!
But RESTing in God goes beyond having a day off each week. It's a state of constancy.
It's not about kicking back and doing nothing, rather it's about doing everything from a place of relationship with God the creator, so that you Rely Entirely on Him and Stop Trying to make everything alright on your own.
Sometimes I make a little film at Christmas, a summary of the year. It's kind of a therapy thing. Haven't done that yet, but here's a Christmas illustration for you and if you want to see a snippet of my year, then whiz to skip to 37mins and 37 seconds for my MA graduation on 11/11/11 at you've guessed it around 11.11 am. What a year.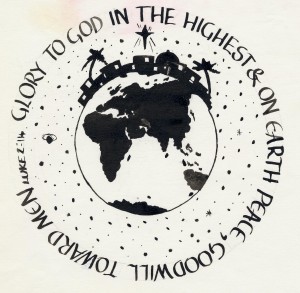 Putting the presentation together has been another hurdle. There are still slight traces of the concept content dichotomy.
Today we arrived to make our rehearsed presentation to the group. For me we had finally become a dynamic team. Everyone had the same aims and goals for the day and without conferring had all worn the same colour clothes. Spooky!
Transmedia storytelling is knowing your message, knowing your audience, knowing your media methods and knowing how to work all of these things together.
To bring the concept www.theartcircles.com alive further and make the experience immersive for our audience I even arranged a surprise guest appearance by our art critic.
The story has won the day. Even if it didn't get first billing in the production, it definitely gets its ranking in first place in the production folder. The treatment, description and summary all hold the keys to the concept. The content takes its place next, beautifully produced artifacts. The Arts Circles is a class concept and skillfully produced with all the talents of the team.
Everyone has pulled out all the stops to get the final nips and tucks made. See the results:
The documercial
An example of one of the featured artists
And an example of one of the featured interviews
The products need to be handed in on Tuesday. All the research elements have come together. I think that the jigsaw finally fits together.
Since there is no time to brief a voiceover artist I have taken this role. Actually I've loved it.
Working again in team in the studio has been fun. One of the directors Christina is also trained as an actress, so I've been coached through the process. My intonation checked, my delivery encouraged.
Now it's hand over to the editors to work their magic. And if Moby says yes we will have a Moby soundtrack!
My writing tutor had told me that writers make good editors, in terms of content. This I have found to be very true.
But I appreciate the skill of the video editors even more than I did at the beginning.
After many hours of listening to audio and looking at pictures, the story is unfolding. I like pithy, fast moving images and this is just what we are producing. I've hit on the idea of showcasing the highlights of the content in what I am calling a 'documercial'. Something that can be used for viral marketing as well as on the website and can be used in our final presentation. A three-point win.
The creative energy in the editing room is exciting and bacon butties are fueling the thinking and activity.
Art Circles is taking shape. I keep telling the team that we could have had this energy from the beginning and I have been waving a book of post-it notes from my bag that I'd brought for brainstorming from the outset of the project. But, the upside of this is that my creativity is being stretched, even if not in the way I had hoped.  But, hey maybe it has given the writer's role credibility and understanding.
The editors definitely earn their keep. It's been such fun to make the journey together. And, the product that is surfacing. It's looking great.
I love it when technology works. I like gadgets if they make life easier, add to and enhance. This is my view of Transmedia too. It has to have a benefit. That benefit has to earn its keep, be a link on a chain. It's kinda like a cocktail, the mix either works or it doesn't – chemistry.